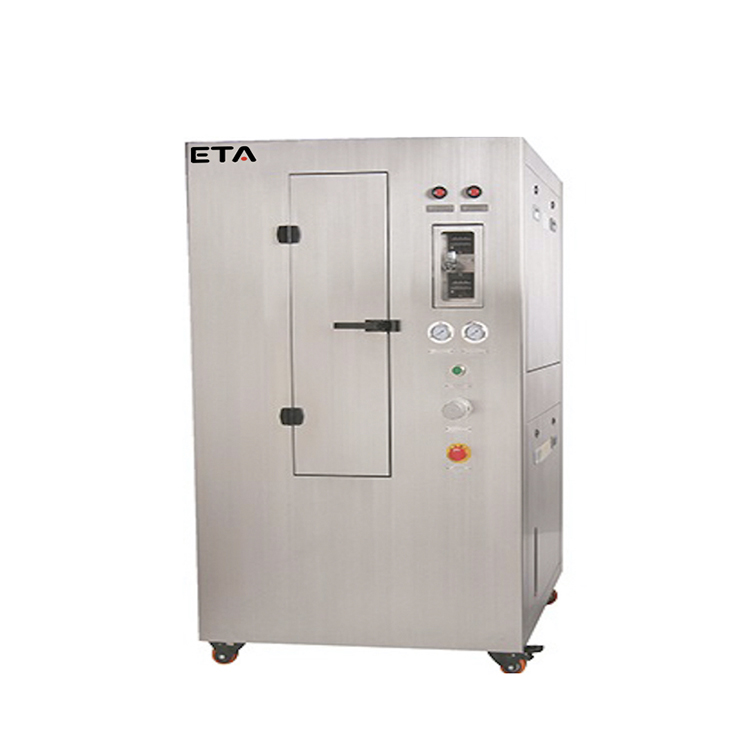 SMT Pneumatic Stencil Cleaning Machine ETA-750
ETA-750 is a pneumatic stencil cleaning machine which used to clean SMT solder paste
or red glue printing stencil. Famous pneumatic parts,strictly produce process,patented rotation
spray rods guarantee you a high quality stencil cleaning machine. Both solvent and aqueous
detergent can be use in ETA-750.Cleaning result is the same—100% clean.
1.SUS 304 structure,Acid and Alkali corrosion resistance,10 years lifespan.
2.Only driven by compressed air, no use electric power at all.
3.One button easy operation, clean and dry complete automatically.
4.Patent 360°rotation spray rods on both sides, ensure good cleaning quality and stable stencil tension. 5.Liquid recycle use, low consumption.
6.Inner-lock safety door and safety valve, once open, machine will be stopped immediately. 7.3-level precise liquid filtering system.Liquid used repeatedly.
8.Super well-known Pneumatic parts from all over the word manufactures.
9.Modular design, easy maintenance.